AWARENESS . DESTIGMATIZING . PSYCHOEDUCATION
TRAINING . SUPPORT: PREVENT-DETECT-RECOVER BY OUR
LICENSED PSYCHOLOGISTS & PSYCHIATRISTS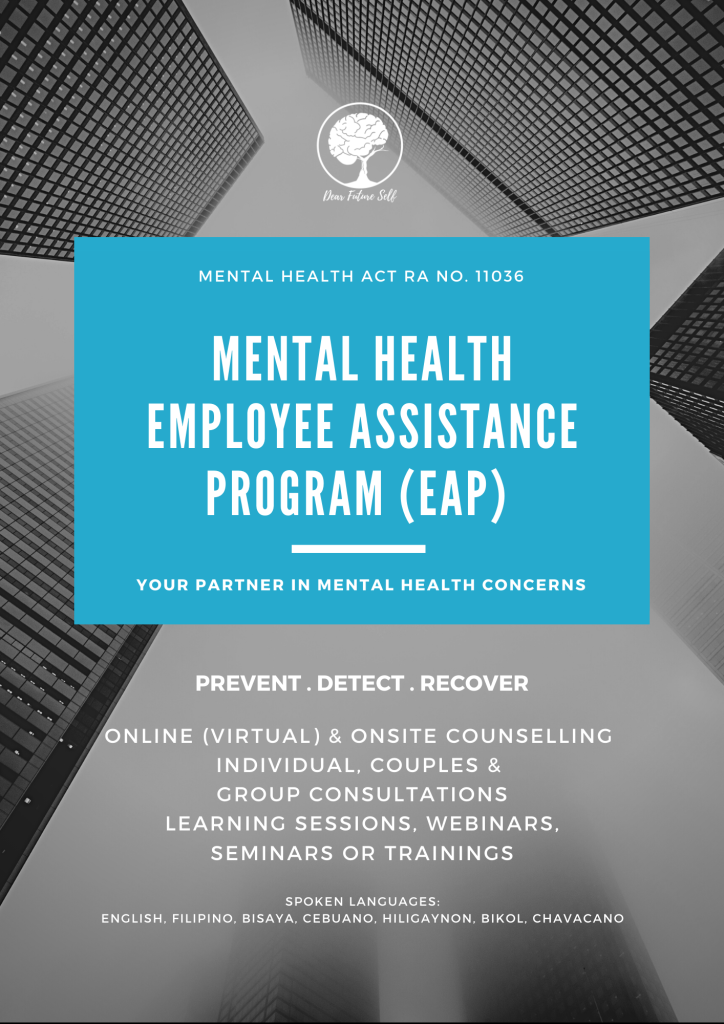 Employee Assistance Program (EAP)
"Your Partner in Mental Health Concerns"
Based in the Philippines, DFS EAP serves clients worldwide as it offers mental health benefit services for employees. As a mental health vendor or supplier, we partner with companies to render psychological services to meet their employees' needs. Our professionals include well-being coaches, financial coaches, counselors, life coaches, psychologists, psychiatrists, and medical doctors.
24/7 MENTAL HEALTH SERVICES AVAILABLE:
Individual Counselling / Psychotherapy

Mental Health Certificates & Clearance (Including PWD application)

Couples Therapy (Marital / Non-Marital)

Medicine ePrescription

Medical Doctor Consultations

Learning Sessions / Webinars

Wellness (nutrition, sleep & exercise/movement) Consultations
Financial or Wealth Consultations
Dear Future Self (DFS) EAP aids organizations in promoting employee well-being, helping them operate at their peak performance. A number of studies have shown striking evidence that DFS EAP improves employee morale, leading them to be more motivated, self-reliant, confident, and productive at work. According to the National Institute of Mental Health, 66 percent of employees who are terminated, regardless of whether they are good employees, leave a position due to their inability to handle overwhelming personal issues. DFS EAP therefore aims to reduce overall health care costs and decrease stress-related attrition rates. Healthy individuals work better and more efficiently, increasing the company's productivity and making DFS EAP a self-generating corporate asset.
Philippine Mental Health Act | Republic Act No. 11036
In Compliance with DOLE D.O. No. 208
July 24, 2017
The State affirms the basic right of all Filipinos to mental health as well as the fundamental rights of people who require mental health services. This is an act establishing a National Mental Health Policy for the purpose of enhancing the delivery of integrated mental health services, promoting and protecting the rights of persons utilizing psychiatric, neurological and psychosocial health services, appropriating funds therefore, and for other purposes; Improve mental healthcare facilities; and promote mental health education in schools and workplaces.
Chapter V. Sec 24.
Mental Health Promotion in Educational Institutions. – Educational institutions, such as schools, colleges, universities, and technical schools, shall develop policies and programs for students, educators, and other employees designed to: raise awareness on mental health issues, identify and provide support and services for individuals at risk, and facilitate access, including referral mechanisms of individuals with mental health conditions to treatment and psychosocial support. All public and private educational institutions shall be required to have a complement of mental health professionals.
Chapter V. Sec 25.
Mental Health Promotion and Policies in the Workplace. – Employers shall develop appropriate policies and programs on mental health in the workplace designed to: raise awareness on mental health issues, correct the stigma and discrimination associated with mental health conditions, identify and provide support for individuals at risk, and facilitate access of individuals with mental health conditions to treatment and psychosocial support. Read More